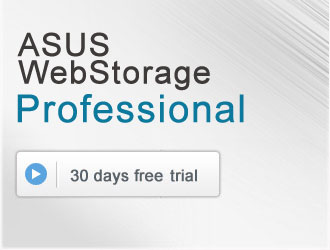 Admin Login

Pricing

Features

Overview
Affordable Price
At ASUS WebStorage, we have made the pricing calculation quick and easy. Unlike most of the online backup services that charge a monthly fee, which you are often billed a premium for the space that you never used. With ASUS WebStorage, you only pay for what you need to use.
The 30 days free trial begins after you have successfully created your ASUS WebStorage Professional account. ASUS WebStorage Business Solution is billed based on pay-as-you-go method; therefore, the billing starts on the 31th day after the account creation. You will receive your first bill after 60th day of using (your account will not bill for the free trial period).
Pricing model
| | |
| --- | --- |
| License Fee | $3 USD/ea. |
| | |
* Still not convinced? Try our pricing calculator to see how much you can save. Simply enter the estimated number of computers and space.
ASUS WebStorage calculator :

Estimate users :

X $3/Per User

Estimate usage :

X $0.3/GB

= $

= $ /month
ASUS WebStorage automatically backs up files in each of your computer. Do Simple drag-and-drop to backup or link to the internet to recover important data.
Real-time backup

Automatic file change detection: you'll never forget to backup


Version control


Multiple version backup: retrieve your old versions of files


Full data encryption


Rigorous security encryption from data uploading to downloading


Online virus scan


Multiple protection of virus scan: protect yourself and others as well


Administrator Control Panel


Through this Administrator Control Panel, you can add in new users, delete existing users, monitor the group usage status, examine Administrator operating records, check through bills and make payments.
ASUS WebStorage is an online backup service that helps small businesses and enterprises increase the productivity while keeping the critical business data securely.
Why Online Backup?
Online backup is more secure and more reliable with lower cost than any other hardware backup alternatives.
USB Drives/CD

Tape backup

ASUS WebStorage

Data Encryption

No

No

Yes

Data Storage Location

Variety

Self- Arranged locations

World-Class data centers

Automatic Backup

No

Need hardware & software purchasing

Data Version Control

No

No

Yes

(Keeps latest 20 versions)

Price

Low but risky

High and difficult to maintain

Low

(Only 1/5 tape backup cost)
Why ASUS WebStorage?
Easy to start

No extra hardware needed. Just sign up and get one month free trial, then you'll be able to get your data protection immediately. With the ASUS WebStorage web-based dashboard, instantly manage your team backed-up data more easily.
Ultra High Security

Whenever you log in with ASUS WebStorage to backup or retrieve your critical business data, you are always protected with SSL (Secure Sockets Layer) and AES (Advanced Encryption Standard). ASUS WebStorage scrambles your data by proprietary algorithms and distributes it to multiple storage systems, which it can only be retrieved by authorized process.
Reliable Duplicate Backups

Unlike the in house backup system, external hard driver, and USB flash drives, which are easily crash or stolen. ASUS WebStorage keeps six duplicate backups for every file that you have backed up. The scrambled files are securely distributed on our secure servers. This way, you will never need to worry about loosing data again!
Excellent Data Accessibility

ASUS WebStorage not only designed to securely backup data, but also helps small businesses and enterprises to increase productivity. ASUS WebStorage guarantees availability of 99.9% operation time through out each year. With convenient web, client and mobile access, your data are virtually available to you anywhere 24/7.
Reasonable Price Model

Much like the cellular phone bill, your account is only billed based on usage of each month. It saves your time and money with reasonable price model and little management required.